Use with Photoshop and more
After removing the green screen, you can export you image to TIFF or PNG with a transparent background. Simply disable the background first and then export the image. Bring your image into Photoshop, After Effects or any other software that reads transparent images.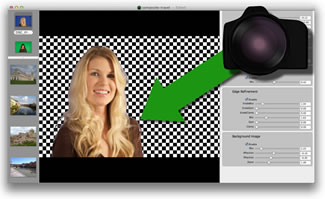 Supports RAW Camera Formats
Need to use a RAW image from your camera such as Nikon NEF, Veescope Photo Keyer can import these files directly without having to convert to another format. If you can see the raw image file in the Finder, Veescope Photo Keyer can read it.